AdultFriendFinder Review
Overview
Users : 80M users worldwide
Logins : 2M active logins weekly
Most active age groups: 18-34 years old
Sex stat: 20% female, 80% male
Orientation: People of any sexual orientation welcome
App: Free iOS and Android app
The AdultFriendFinder dating site is one of the biggest and most formidable online platforms for people seeking casual bedroom encounters or permanent intimate relationships. Originating in the United States, it now boasts tens of millions of members across the continents who find their happy hookup or for-keeps romance using its wide range of awesome features and amazing state-of-the-art functionalities.
AdultFriendFinder is for men and women aged 18 and above. It offers a virtual venue for finding, meeting, and flirting with people looking for single or married like-minded individuals, and it provides for all types of arrangements, such as monogamous hookups, casual couple sharing, and exclusive polyamory setups. The app and site's goal is to satisfy the users' craving for stark sex, friendships with benefits, or happily-ever-after bliss, and this is by helping members meet their perfect match easily.
Premium subscription costs USD39.95 monthly, USD80.85 quarterly, or USD239.40 yearly.
Pros and Cons
Pros / Cons
Part of huge FriendFinder network
Several ways to reach out to members
Vibrant chat rooms
Good customer support
Premium subscription costly
Some user profiles bogus
AdultFriendFinder belongs in the huge FriendFinder network, which means that members can interact with those from the sister sites. It opens a plethora of opportunities to reach out and stay in touch with potential partners in bed, and its help team is ready to address any issues relating to site use. Premium subscriptions are pricey, but for the serious seekers of passionate relationships, the benefits do outweigh the costs. Due diligence and caution are required of every user, though, to avoid fakes and fraudsters.
Profile Quality
Profile quality is commendable overall because it encourages members to express their desires, expectations, and capabilities, not to mention sexual preferences. Users can enter as much relevant information as possible to get the best recommendations and the ideal matches right away. Additionally, they're allowed to upload their photos and videos, including their nude poses and clips.
New users must be warned, though, that even huge adult dating sites like AdultFriendFinder, which have state-of-the-art detection technologies, can still be infested with low-quality, if not altogether fake, profiles. Otherwise, the general environment showcases real people's real pages with a real craving to meet a real sex partner.
Members and Messaging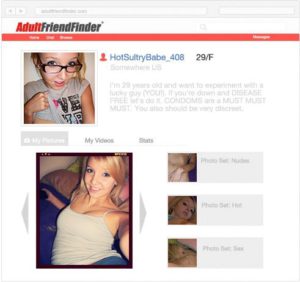 AdultFriendFinder has a myriad of communication channels that are always open, which sets it apart from the rest. While free members aren't allowed to reach out to a specific person, they can ingeniously make themselves known by conveying their thoughts and feelings in the blog that's part of their account or by contributing to the site magazine.
For premium members, the options are numerous. These include shooting one direct, instant message after another to any user.
Sign Up
The site is free to try, and registration is a simple process that only requires a few bits of basic information. Are you a man or a woman looking for someone to firt with and date? Or are you a couple, or a group of three or more people, looking to share climactic merriment with others?
Afterward, enter these details:
Your date of birth
Your country of residence
Your province or locality
E-mail verification follows shortly.
Free Versus Paid Features
Here are things you can do once you've signed up:
Free Account
Become familiar with the AdultFriendFinder app
Post photos, videos, and blogs
Search for members, view profiles
Hotlist individuals, couples, or groups
Read a message from a paid user
Join contests
Enjoy chat and cam action
Paid Subscription
Savor all free benefits
Join the Sex Academy
Like and comment on vlogs
Do multi-way flirting
Send virtual gifts
Send one message after another
Interact privately with someone fascinating
Free Services: How to Use
Becoming Familiar with the AdultFriendFinder App. It's yours for the taking, without cost on your part, and you can benefit from its available services anytime, anywhere. Use it with joyful abandon to realize your dreams of awesome and amazing sex.
Posting Photos, Videos, and Blogs. Once registered, you may upload sultry images and sensual clips of yourself in action for others to marvel at, and you may create your blog that will double as a sex journal for others to follow closely.
Searching for Members, Viewing Profiles. Activate the filters to customize your searches and get really good matches, then browse member pages and savor what users have in store for you.
Hotlisting Individuals, Couples, or Groups. Mark the pages of persons or people you fancy to keep a record of your selections. You can go back to this when you're ready to pay to interact with anyone or all of them.
Reading Message from a Paid User. You're at liberty to open messages sent your way by premium members, although you must pay to be able to message them back.
Joining Contests. Be at the top of your dating game by entering in the site's themed competitions and getting sizzling exposure. The winning member is the one who gets the most user votes.
Enjoying Chat and Cam Action. Join the vivacious chat rooms if you want to mix and mingle. And if you want to spend quality time on your own, watch members who are live-streaming or broadcasting their sexually charged activities.
Paid Services: How to Use
Savoring All Free Benefits. As a premium user, you'll get to enjoy all the privileges accorded to basic users, plus a whole lot more.
Joining the Sex Academy. Take advantage of your access to the Sex Academy, which is a knowledge bank that educates you about meeting potential hookup mates online, experimenting on sex positions, doing bedroom things the right way to blow your partner's socks off, and related topics. Let the tips, tricks, and hacks help you review and even rethink your style as a flirt and an actual playmate in bed.
Liking and Commenting on Vlogs. Tell users how much you admire their presence on the site and how much you appreciate their vlog. Give them a rip-roaring review and inspire them to do more and more…and more.
Do Multi-Way Flirting. Click on the wink emoji on the members' profiles to tell them subtly that you're attracted to them.
Sending Virtual Gifts. Choose a token that's within your budget to send to the person you like.
Sending one message after another. Shoot messages to members you take a shine to let them know they're wonderful. Just don't be spammy!
Interacting Privately with Someone Fascinating. Spark a soulful one-on-one conversation with the person you're aching to hook up with real soon. This is the best place to get to know each other better and the launchpad to over-the-moon, in-the-flesh sexual adventures.
FAQ
How to Start Chatting on AdultFriendFinder
Chances are, you're on the AdultFriendFinder app or site to find and begin contacting a bombshell or a beefcake for a night (or a series of nights) of romping, cavorting, and climaxing in bed.
Once you're granted the privilege of interacting with users and members, which means that you have paid for premium services, study the profile of the person you're dying to grab hold of. Review their photos, videos, blogs, and other onsite activities, so you can compose a personalized message that will tickle and titillate him or her. Hit send and smile as you wait for the reply. It shouldn't take long for the recipient to give you a positive reply that could include that vital phone number and schedule for a real-world rendezvous.
Is AdultFriendFinder Worth Your Time?
The short answer? Yes, definitely and absolutely!
Review after independent review, free and paid members say it's a great choice for people who are into online dating. The AdultFriendFinder app is always a reliable buddy for people on the go, and its services for millions of users are tops.
We've signed up and navigated the pages ourselves. We thought that it would be wise to test the waters and play with fire for a month, for starters, just to be sure that it was the perfect fit. We've been addicted to it since.
So, get started with the AdultFriendFinder dating site or AdultFriendFinder app yourself and reap its cornucopia of benefits. It's free to try!

Visit Site