ClassifiedAds.com Review
Overview
Members: 70% male, 30% female
Active Age: 30-45 years old, most active age groups
Prices: Free
Certainly, at some point in your life, you've heard of Classified Ads and how they work. Well, now it's time to check out the ClassifiedAds.com review and see how you can use ClassifiedAds.com as an online dating website and if you should.
ClassifiedAds.com has several sections from things ranging from vehicles to rent, and one specifically designed for online dating.
You will find it under "Personals", where it's further divided into several categories. You can check out casual dating, missed connections, but also 4 different "seeking" categories for all gender combinations, both heterosexual and homosexual.
The general casual dating category can be sorted according to the others, depending on whether you are a man or a woman and you are looking for men or women. From there on you can further narrow your search by location and related searches or create your own advertisement on ClassifiedAds.com.
PROs and CONs
Pros / Cons
Easy to use
Can find dates and also several other domains you might be interested in
Mobile and user-friendly
Posting and replying to an ad is free
Many singles from all over the world
Not really an online dating website
Lacks usual dating website features
Can't live chat, send winks or likes
Can only reply via a sort of email
No dedicated mobile app
Profile Quality
As ClassifiedAds.com isn't a regular online dating website, it doesn't have a regular profile for each user to review. You can see a picture of users who post their ads, but not all of them have one and a username. You can see their ad, which will act as a sort of tell-all, and you can draw your conclusions on members based on what they are searching for using that ad.
All members can post whatever they desire in their advertisement; it will act as their account, although you can't see what other ads they've posted on the dating services in the past and get a general idea about what they are like or what they are interested in.
The members on the dating website are regular people from all walks of life. They come from the US mainly, but you also have users from Canada and around the globe. You can tell about them from their advertisement on ClassifiedAds.com where they are from, and then the rest will be uncovered when you message them.
Members and Messaging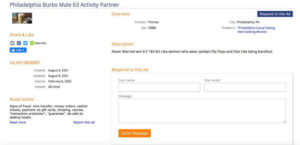 Messaging members on ClassifiedAds.com is fairly easy. Since everything on the website is free, from posting your own advertisements to replying to other users' advertisements, everything is quite easy and intuitive. There are 200 active advertisements for Queens, New York City, so there are plenty of active members that you can contact, no matter where you are from or what you are interested in.
While you have to click on the advertisement and then hit reply to start a conversation with someone you are interested in, waiting for a response takes a bit more than on other online dating websites. This is because there is no live chat option, so it takes longer for users to see your message and reply, and then it will take even longer for you to send back another message and so on.
Sign Up
Signing up is not mandatory on ClassifiedAds.com. You can directly post an advertisement without even having to make an account. If you want to sign up, you can do it in a regular way by inputting your email address, username, and password, or you can log in using Facebook, whichever you prefer and think is easier. Either way, it will take you almost no time at all to create an account or log in.
Free vs Paid Features
Everything on ClassifiedAds.com is completely free. You don't have to get a membership; you can look for what interests you, post an advertisement, write a personal, respond to other singles' advertisements and communicate for as long as you desire with no strings attached.
While the website in itself is limited when it comes to dating features, the actions you can do without having to pay is unlimited.
How ClassifiedAds.com Works
ClassifiedAds.com is a free classified ads website where you can get jobs, real estate, apartments, and even hookups. Its dating site is mostly focused on hookups for one night and casual dating rather than serious, long-term relationships, but these pop up every once in a while, generally in the missed connections section.
Security Measures
Since anyone can post personals here without even needing an account, you shouldn't be surprised if you find some fake profiles or advertisements that take it too far. While the team behind the website tries their best to verify everything, they can help but let some issues slip through the cracks.
The website has a Help section that's very useful, and you can also report everything that looks like it's a fake user or a scam.
Overall Decision
ClassifiedAds.com is a general advertisements website that doubles as an online dating website as well. While it doesn't have all the features you can generally encounter in dating websites, it has everything you need if you're searching for a hookup nearby. Make sure that you never meet anyone in person or disclose personal information until you are certain it is safe to do so.
FAQ
How can I start chatting on ClassifiedAds.com?
Click on any advertisement that you are interested in and reply to it. That's all there is. You can do so with or without an account, and you can then communicate with other singles via email.
Is ClassifiedAds.com worth my time?
It depends on what you are searching for. If you crave something very casual, don't desire to give out a lot of information about it, and wish to browse personals casually and talk to other people when you are in the mood, it could be a good fit.

Visit Site