Doublelist Review
Overview
Members: 65% male, 35% female
Active Age: 25-35 years old, most active age groups
Prices: free
Doublelist appeared on the online dating market back in 2018, soon after the famous Craigslist personals were shut down because of some gruesome charges.
Since the giant went away, it made a lot of space for other personals websites to gain popularity, and Doublelist took full advantage of this, leveling up fast and becoming one of the best hookup dating websites for all sexual orientations.
The Doublelist is a free website once you register an account. You can post personals and even add photos. You get two posts every day with up to four photos per post. You can join chat groups or write comments for other members. You can check out web blogs and exciting games/tests and read articles about all sorts of sexual trivia.
Doublelist has over forty million users worldwide, and most of them come from the US. The online dating website is for people from all walks of life, ethnicities, religions, and sexual orientations. You can find heterosexual, gay, lesbian, or bisexual partners to hook up with for one night.
PROs and CONs
Pros / Cons
Easy to use
Completely free
40 million users
LGBTQIA+ friendly
Phone verification
There are some fake profiles
You can't even see the site unless you register an account
No dedicated mobile app
Profile Quality
Since Doublelist isn't a classic online dating website, there are no user profiles per se, but you can find out more about each member because they can post up to two times a day and add four photographs with each post.
There are several categories on the dating services' website which you can search through. There can be different combinations made, not just for heterosexuals and couples searching for a third, but also for members of LGBTQIA+. The only downside that we've found is that the website does not cater to the transgender community.
While you will find some personals looking for trans people, they do not have their separate category on Doublelist, and you cannot browse specifically for this category. This is one of the only reasons Doublelist doesn't have solely good reviews.
Members and Messaging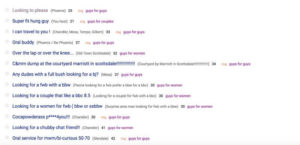 Everything is free on Doublelist so you can post advertisements and reply to other users' ones for free. There is no instant chat or complex dating features. You see a personal advertisement that you like, and you reply.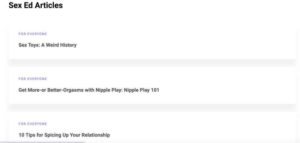 You can also post twice daily and wait for other members' replies. It's quite straightforward. If you're looking for something to do here until you get some answers, you can check out different games and quizzes and even brush up on your sex education and knowledge.
Sign Up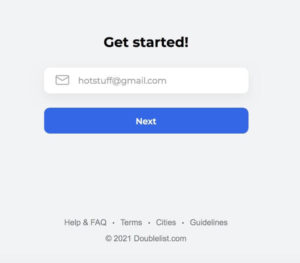 To sign up at Doublelist, you must use your email address and input a username and a password. You will then need to verify your phone number so that the website can be swift through them and eliminate any profile that isn't legit.
Scammers and fake accounts will be banned from making an account, and the website can tell if you use a virtual phone number or email address.
Even so, some fake users might end up joining, but you can report them or block them. When a user is blocked and reported, he/she cannot make another account using the same phone number.
Free vs Paid Features
You don't have to pay for anything on Doublelist. You can register an account and use all the available functionalities for free with no strings attached. We love the fact that you don't have to pay to be treated with the premium package.
How Doublelist Works
Doublelist, unlike any other online dating website of this type, has a very strict policy. You are not to send any nudes or any type of vulgar or sexual photographs, and discrimination and offending other people are other big no-nos.
The online dating website is mostly for casual hookups, but you can also find some people looking for serious dating and others who only want a friend.
Security Measures
The email and phone number verification process is the best security measure Doublelist has in place to stop fake accounts and spammers from reaching the website. If they somehow manage to get past it, users can instantly flag them, block them and report them, and action will be taken immediately.
Overall Decision
If you prefer online dating websites that work more like personal advertisements, that are super easy to use, straightforward, and most of all free, then this website might work well for you. It caters to several different sexual orientations and allows you to find a hookup nearby.
We really appreciate their security measures and the fact that you won't be bombarded by pornographic photographs as soon as you enter the website. It feels nice, discreet, and friendly.
If you're looking for something to pass the time, are truly interested in hooking up with someone new, making a friend, or prospecting the market, check out Doublelist today, it's worth it.
FAQ
How can I start chatting with users on Doublelist?
You can either post a personal advertismenet and wait for other members' replies or you can search through the advertisements already uploaded on the website and see which one you prefer. When you find something you are interested in, hit the reply button.
Is Doublelist worth checking out?
It depends on what you are looking for. If you like personal advertisements, no strings attached, free dating website features, and casual relationships, then it might be a perfect fit for you.

Visit Site