FlirtLocal Review
Overview
Members: 60% male, 40% female
Active Age: 22-38 years old, most active age groups
Prices: starting as low as $29.95
If you've been searching for a FlirtLocal review, you've come to the right place. The review will take you through all the elements of the online dating website so that you can decide for yourself if this is the kind of website you should sign up to and create a profile.
FlirtLocal is a hookup website for casual dating, so if you're looking for a meaningful connection and meeting other members to start a serious relationship, then you're better off searching elsewhere.
The FlirtLocal review will discuss everything from the quality of user profiles to the services offered, the type of people who use its services, mobile availability, and even other users' reviews.
PROs and CONs
Pros / Cons
Creating a profile is free
You can see other users' profiles without paying
You can video chat
Observe who has seen your profile
Can easily block other members
Easy to search for singles locally
A reasonably priced premium version
All singles are looking for hookups
You can see who is online
You can only send messages with a paid membership
The dating website will contact you as a user to let you "practice flirt"
You can make an account without having to upload a photograph
There isn't much account verification
Hard to tell which profiles are real and which are fake
Must read the Terms and Conditions before agreeing; they are not standard
No dedicated mobile app
Profile Quality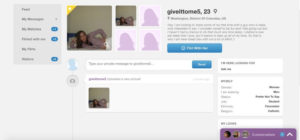 After reading a FlirtLocal review and then making an account, even if you don't pay for the membership right away, you can still browse through profiles and read everything on each of them, even see pictures.
The profiles generally have a short "about you" description in which users say what they are looking for, a bit about themselves, and other regular information that you can expect to see when you review any online dating website.
The interesting part is when you look below. FlirtLocal first asks for classic info. There you can see gender, sexual orientation if they are single or not, their job, ethnicity, religion, height, body type, eye color, or if they have piercings or tattoos.
The exciting part is where you can see their favorite sexual position, if they exercise, drink, smoke, have pets, or even what their favorite sex spot is.
Interestingly enough, while researching FlirtLocal for this review, we've seen that many profiles actually completed this personal section. If you're interested, the most commonly appreciated position on FlirtLocal is doggy style.
Members and Messaging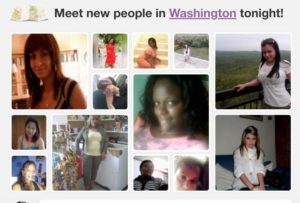 To properly review FlirtLocal, we went in deep and started messaging users to see exactly how they respond, how long it takes them to respond, they are interested or not, etc.
Almost instantly, after making the account, we got our first message. It seems that it's an automated message from the online dating website itself, and sure enough, reading through what others have to say and the T&Cs, it seems to be a sort of dating and flirting simulation to help users get in the mood.
We didn't stop here, and we went on to message the users who were online. We got replies right away, which means that users here are very active and fast or that everyone we contacted wasn't real. They seem real, though, as their profiles were complete, and they even had weird spelling sometimes.
Even though our account didn't have any pictures, the women on FlirtLocal seemed to be ready to flirt and even willing to hook up but only after sending them some pictures so that they were sure we were real.
Sign Up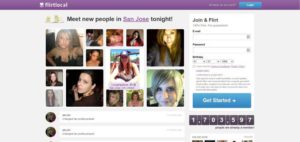 The sign up at FlirtLocal is insanely easy and fast. You don't have to go through personality tests and complicated questions that take a long time. You enter your email address, your new password, your age, and your location if you are a man or a woman and what gender you are interested in, and that's it.
You must also provide a short paragraph about yourself. Posting a photo right away isn't mandatory, but it's encouraged. After being sent a confirmation email, just click the link, and you are done. Signing in at FlirtLocal after that is even easier. Just enter your email and password in the upper right corner of the dating website.
Free vs Paid Features
Once you've signed up, you will automatically get access to all user profiles for free. You can like other users' profiles by sending them a flirt, match with them if they flirt back, send a message but can't reply further to the conversation, see what others write to you either as a response or when they initiate, search for nearby singles and complete your profile.
If you want to send and receive as many messages as you desire, get priority ranking, visit all profiles, see all photographs, get free XXX movies, and even priority support, then you will have to get a paid membership.
You have three options either for 1 month, three months, or six months. The 1 month membership is $29.95, the 3 month version costs $59.95, while the one for six months is $99.95.
How FlirtLocal Works
FlirtLocal is a hookup website where you can find plenty of users for one-night stands and casual relationships. If you're interested in serious dating for the long term, this online dating website is not for you.
There are different kinds of users, but generally, it's a website for heterosexual hookups. There are no predominant ethnicities, religions, or body types; you get a bit of everything.
Security Measures
The team behind the online dating website regularly checks the profiles to see if they comply with the terms of service and if the profiles are real. If they find something out of order, they will close the account.
While there are no security measures in place when you make an account, as you are only asked to verify your email address, the chances are that some fake profiles seep through the cracks, but they will be removed later on.
Both as a free user and one with a paid membership, you can block any user you think is fake or a scammer right away.
Overall Decision
FlirtLocal is an easy-to-use website that works well across all devices. Even though it does not have a native app, you can still access it from your mobile phone with no issues whatsoever. The user interface is intuitive, and you will be able to find everything that interests you right away.
The users seem to be friendly and are all here looking for hookups and nothing else. You can browse profiles and see what you're getting into before having to pay for anything, and that's a great plus. You can also cancel your membership at any time and block any users that annoy you.
The website could use more verifications to ensure that all users are real, but other than that it seems all in good fun.
FAQ
How to begin chatting on FlirtLocal?
Register an account, sign in and browse the singles nearby. You will have better chances of talking to someone right away if you approach the members who are online. Send them a flirt or a private chat, and you can start chatting right away.
Is FlirtLocal worth checking out?
It depends on what you are searching for. If you want serious commitments, then no, there's no one on FlirtLocal for you. But if you're looking for a fast hookup with no strings attached, then it's worth making an account and seeing if there's someone who sparks your interest.

Visit Site