QuickFlirt Review
Overview
Members: 400K members in the United States
Logins: 130K active logins weekly
Active Age: 25-34 years old, most active age groups
Sex stat: 30% female, 70% male users
The QuickFlirt dating site is a legit, formidable, and high-tech online platform for adults in hookup mode who want to get up close and personal with their next bedroom playmate. It's excellent for finding, meeting, flirting with, and potential dating partners in casual sex, if not in for-keeps romance. It consists of marvelous men and wondrous women who want those from the opposite sex to blow their socks off. The QuickFlirt app complements the desktop version for people on the go.
QuickFlirt is for adult males and females the world over, who are looking for like-minded people to flesh out their worldly fantasies and satisfy their craving for spectacular sex, fantastic friendships with benefits, or even fabulous for-keeps intimate relationships. With its state-of-the-art technology and range of services, it helps members easily find and meet their perfect match, and many of its non-US members are from the United Kingdom and Australia.
Premium subscription costs USD0.99 daily, USD7.00 weekly, USD28.80 monthly, USD48.60 quarterly.
Pros and Cons
Pros / Cons
QuickFlirt app ready for fast action
Free signup
Convenient per-day or week-long paid trial
Has safe mode to ensure security and privacy
Infested with fake accounts and bogus profiles
Limited message provisions for free subscriptions
QuickFlirt offers no-cost registration, and unlike many other large online platforms that cater to adult daters, it has low-price trial options of 24 hours or a week. This is for everyone to taste the joys of virtual interactions and savor the goodness of actual, real-world sexcapades that arise from the eMeetings. The site provides good customer support for basic and paid subscriptions, and it has a range of opportunities to reach out to attract and game women and men. One caveat for all honest-to-goodness members is the fact that it is littered with fraudulent users.
Profile Quality
The overall QuickFlirt profile quality is fair despite the presence of fake accounts and bogus profiles. All users and members are required to upload their photos and encouraged to post a short video that can be changed anytime, although the uploads will be regulated according to policy. To protect everybody's privacy, screen name and age are allowed (but internally reviewed).
User profiles welcome detailed descriptions for other members to see and thoroughly examine, and information may include sexual preferences, bedroom lifestyles, and what potential date mates can expect. There's also room for a 140-character status that can captivate and bring out the smile in prospective hookup partners.
Members and Messaging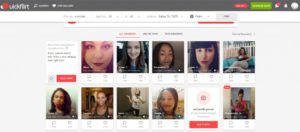 One of the terrific things about QuickFlirt is that it has a cornucopia of ways for users to communicate with members that make them pulsate and gyrate. Although people with basic subscriptions have no means to reach out to a specific male or female, they have the privilege to conduct personalized searches, browse the directory, view particular profiles, put crushes on the "Favorites" list, and send winks to females or males whom they want to meet in the flesh and grab hold of.
For premium members, the near-countless privileges are mouth-watering and mind-blowing. These include the ability to shoot one direct, instant message after another to users.
Sign Up
Registration is free, and signing up is a simple process that takes no more than five minutes and requires bits of information. Are you a man or a woman aching to share climactic revelry with someone from the opposite sex to flirt with and date? Or are you a gay or lesbian ready to frolic and have fun?
Then enter your details, as follows:
Age
E-mail address
Preferred password to access your QuickFlirt account
Geographic location
Account verification via e-mail will be made shortly.
Free Versus Paid Features
Free Account
Upload photos and videos
Browse directory, search for members, view profiles
Mark prospects in Like Gallery
Add fascinating individuals as "Favorites."
Paid Subscription
Savor all free and basic benefits
Promote own account
Do a Flirtcast
Send one message after another
Interact privately with someone enthralling
Get in Safe Mode
Get guaranteed satisfaction.
Free Services: How to Use
Uploading Photos and Videos. With your QuickFlirt app or via the desktop site, awesome post images and amazing clips of yourself convey your longing for tremendous sex. But do this according to community guidelines.
Browsing Directory, Searching for Members, Viewing Profiles. Maximize your freebies by going over the listings, activating the filters to personalize your searches, and savoring the luscious profiles of people you fancy.
Marking Prospects in Like Gallery. From the popups, choose whether you want to know more about a member or pass up on a user, then plan your pursuit strategy.
Adding Fascinating Individuals as "Favorites." Similar to the Like Gallery, pick the users and members who arouse your curiosity and whom you would like to romp and cavort with. Think of great ways to reach out to them within the free limits.
Paid Services: How to Use
Savoring All Free and Basic Benefits. As a premium user or paying member, you're sure to enjoy each privilege that a basic subscriber gets, plus loads more.
Promoting Your Account. Blow your horns and, even in the subtlest ways, convey your horniness because you're entitled to do so. Do so by activating the popularity booster to get your profile seen by as many users and members as possible…even while you're out like a light.
Doing a Flirtcast. Take advantage of the Flirtcast function, which features many preset pickup lines to send to multiple people.
Sending one message after another. Deliver irresistible messages to members you've taken a shine to, saying how much you find them awesome, amazing, and potentially fun to be with. Just don't get annoyingly spammy!
Interacting Privately with Someone enthralling. Spark a splendid conversation with the person you intend to have a hookup with shortly. This site is the launchpad to over-the-moon, in-the-flesh sexcapades.
Getting in Safe Mode. Don't lower your guard, especially if you have a reputation to keep in the outside world, and use the safety feature to protect your security and privacy. When you're in "Full" safe mode, you may only be contacted by verified users and members.
Getting Guaranteed Satisfaction. As a premium member, you should be assured of turbocharged excitement and pure ecstasy. But in the unlikely event that you don't find matches on QuickFlirt who are worth your lusty energy, you'll receive a free trial on the sister sites.
FAQ
How to Start Chatting on QuickFlirt
Once you're on the QuickFlirt app or site, have found a bombshell or a beefcake, and are allowed to contact the person you're dying to grab hold of, study her or his profile. Thoroughly review the uploaded photos, videos, and information, and use the details to draft a personal message that will tickle and titillate the apple of your eager eye. Send it and be in happy anticipation. Chances are, you'll get a delightful response that could include that vital cell number and an invite to a rip-roaring, real-world rendezvous.
Is QuickFlirt Worth Your Time?
Why, of course! Review after well-crafted independent review, free users and paid members to think QuickFlirt is the fastest and easiest way to online dating success. For years, the QuickFlirt app and site have been trusted by many singles ready to mix and mingle, be they heterosexual, homosexual, or bisexual.
As far as we're concerned, we signed up for free at first but got wind of the ins and outs of finding, meeting, flirting, and dating potentially perfect matches here. We've been addicted to QuickFlirt since.
And as for you, visit the QuickFlirt dating site or QuickFlirt app now and begin to reap its plethora of benefits. The platform is free to try, so there's nothing to lose!

Visit Site